36pages on
this wiki
Home
Holiday Gift Guides
Just in case you need some inspiration, we've asked a few of our top communities to submit their own holiday gift ideas. They have been instructed to submit one realistic (i.e. 30th Anniversary Back to the Future DVD Boxset) and one over-the-top, if they had an unlimited budget idea (i.e. 2015 Marty Mcfly NikeLab Bruin Leather shoes). Check each gift guide, you might find the perfect gift idea you'd never thought of until now!
Hot Movies
#MockingjayPart2
#Spectre
#The33
The Hunger Games: Mockingjay - Part 2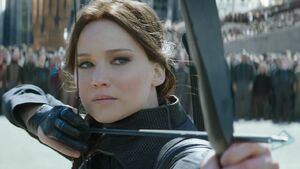 With the nation of Panem in a full scale war, Katniss confronts President Snow Donald Sutherland in the final showdown. Teamed with a group of her closest friends – including Gale, Finnick, and Peeta – Katniss goes off on a mission with the unit from District 13 as they risk their lives to liberate the citizens of Panem. The mortal traps, enemies, and moral choices that await Katniss will challenge her more than any arena she faced in The Hunger Games.
Fall Movie Poll
Which Hunger Games film was your Favorite?
Popular Videos